Subscribe to RSS feed or get email updates.
One 19th century Tennessee hanging chimney was constructed from wood and clay in the middle of the room.

The singular part of the house was its interior arrangements. It literally had a hanging chimney in the center of the room. By some means long beams were fastened to the joists and the rafters, extending a few feet above the roof and down to within four or five feet of the fireplace. These beams widened out from the roof toward the floor like a funnel. Across the beams laths were nailed. Then the chimney was stuccoed, not with lime plaster, but with red clay mud.
Oliver Perry Temple, Notable Men of Tennessee, 1912
...In wooden buildings...smoke hoods were either suspended from the ceiling rafters or supported by stone or brick pillars...In stone buildings...hearths were often moved to positions along the walls and placed under hoods attached to the walls.
Paul B Newman, Daily Life in the Middle Ages, 2001
Black Sea German immigrants .. to the Northern Great Plains ... [had a] basic vernacular architecture... Some dwellings have a black kitchen (schwarze kuche), a small, centrally located, six-foot-square room that functions as a separate space for preparing and cooking food. Abutting the black kitchen and heating the parlor and rear bedroom is a large clay oven...
Michael H Koop of the Minnesota Historical Society in David J Wishart's Encyclopedia of the Great Plains , 2004
Hanging chimneys and smoke canopies
Hinging lum - one way of getting smoke out of the home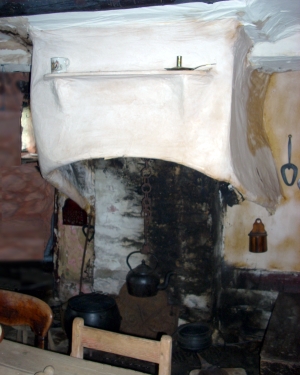 A hole in the roof is a rough and ready way of ventilating a small home with a central fire. Smoke will linger in the room. Everything will be smelly and dirty. Sweeping and scrubbing will make only a brief impact, and clean laundry will not stay fresh for long.
How can you funnel smoke away without sophisticated architecture like angled chimneys and fireplaces recessed into the wall? One solution tried by medieval builders was a kind of canopy or "hanging chimney" placed over an open stone hearth, guiding fumes towards a roof outlet, directly or with a simple flue. Archaeological evidence is scarce, since simple hearth hoods built of wood and clay hundreds of years ago don't leave obvious remains.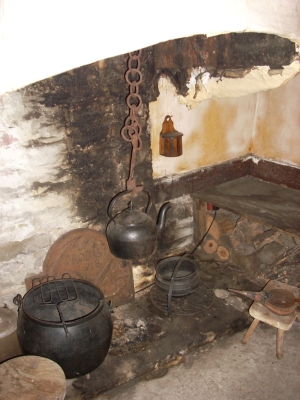 However, in the Scottish Highlands and Islands "hanging" hearth canopies, or hingin lums (hanging chimneys) continued into the 20th century. The one photographed was still in use about 1950. The gaps between the wooden laths here are stuffed and covered with paper, rather than clay. A photograph from the 1930s displayed in a longhouse at Moirlanich, Perthshire shows the lum covered in floral wallpaper while a woman sitting nearby stirs porridge over a peat fire. The house has not been restored, just conserved as it was when acquired by the National Trust for Scotland, so perhaps the plain white paper dates from the 1940s?
Hingin lums used the wall for support. Along with a hearth at the side of the (stone-walled) room, they were common in Scotland and Ireland until the 20th century. In the second photograph you can see a piece of iron used as a fireback, along with all the other fireside paraphernalia: wood stored under seat, bannock spade on wall, kettle hanging from a "swee" chain.
Fogolar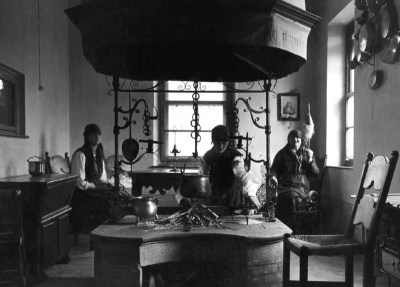 If you keep an open hearth in the middle of the room you may use a smoke funnel like the ones that hang over the traditional fogolar of northern Italy: a raised stone platform-hearth in the middle of kitchen/living-room. Overhead is a round or square masonry hood. It can be plastered, panelled, and trimmed in various ways, while underneath is simple brick or stonework. These are now very desirable "features" in restored farmhouses etc. but the earliest ones are not attached to carefully-designed chimneys, and are more likely to be ventilated by simple flues.
The 1930s photo of a big Italian kitchen (right) shows quite an elaborate version, with raised, shaped cooking area, and a hood with wooden trim. A simpler, lower square hearth is more typical, while hood shapes vary regionally from four-cornered to rounded onion or bell styles. Sometimes the fogolar is at the side of the room with a canopy supported by the wall, as with the Scottish hingin lum.
The wrought iron "double wing" frame, called cjavedâl in Friuli, is an important part of the set-up, with hooks and chains for cooking pots. Look at Il Fogolâr for a picture of a traditional onion-shaped plaster finished canopy over a simple square hearth on a page with fogolar-related vocabulary for those interested. (Run it through Google's 'language tools' for an English version.) There are more pictures in this book on fireplaces, and this page on fogolar cooking tools.
Smoke attics, black kitchens, smoke bays, and other pre-modern approaches to smoke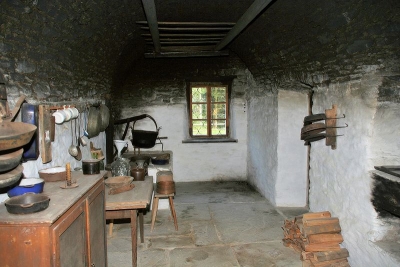 Taking smoke away from living areas was an important development in home life, with many implications. (Imagine your kitchen or sitting room filled with smoke.) There were various ways of cleaning things up in the transition between a simple hole in the roof and a fireplace set back into a wall with a carefully angled built-in chimney. For example, you could channel fumes to the roof through a smoke bay or smoke hood constructed in between rooms on the upper storey of a house. The house diagrams here from 16th century southern England illustrate this clearly. Similar arrangements could lead fumes to an attic used for smoking foodstuffs.
The "black kitchen" or "smoke kitchen" in the photo (left) was the way many central European houses kept smoke out of the living areas. Cooking was done over an open fire with no chimney, but the kitchen was separated from the rest of the house.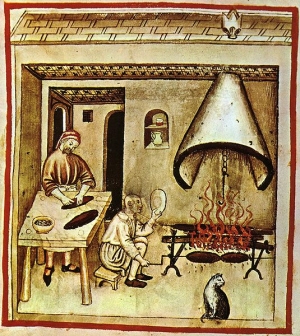 To the right is a medieval picture of a hearth with canopy from an edition of the Tacuinum Sanitatis published in 14th century Lombardy, Italy.
See also: pages on related kitchen or fire topics:
Peat or turf fires
Bakers' paddles or peels
Bannocks cooked on open hearths
Fireplaces

3 November 2009
You may like our new sister site Home Things Past where you'll find articles about antiques, vintage kitchen stuff, crafts, and other things to do with home life in the past. There's space for comments and discussion too. Please do take a look and add your thoughts. (Comments don't appear instantly.)
For sources please refer to the books page, and/or the excerpts quoted on the pages of this website, and note that many links lead to museum sites. Feel free to ask if you're looking for a specific reference - feedback is always welcome anyway. Unfortunately, it's not possible to help you with queries about prices or valuation.