Subscribe to RSS feed or get email updates.
Living on the move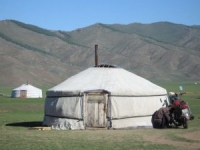 Homes you can move around are part of a travelling exhibition on "flexible living". Western culture makes a strong distinction between "nomads and settled peoples", and so we feel "huts, tents and igloos are no more architecture than baskets, hammocks or cushions count as furniture," according to the Vitra Design Museum.
All the same, the Western world hasn't entirely lacked people with reasons for carrying their domestic equipment around with them - 19th century empire-builders with campaign furniture, American pioneers in wagons are just two examples - and it's seen some long-term "nomadic" lifestyles - in a traditional gypsy caravan perhaps. (below left)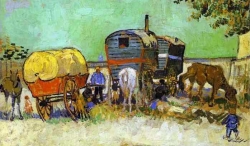 Some of the best portable furnishings are the most versatile. A wooden chest is popular with yurt (above right) dwellers for the same reasons it was considered useful in medieval Europe. It can serve as storage, luggage, seating and table. The exhibition shows a central Asian "soft trunk" made of colourful, densely-woven wool, with no lid. Hung from a tree it makes a cradle to keep baby away from damp ground and animals. Upturned over the family blankets and clothing it becomes a useful low table, and of course it's a flexible piece of baggage too.
Living in Motion has been all over Europe, and to Boston too. If it ever comes near you, be aware it's not mainly about things old and interesting. There are more 20th and 21st century exhibits than earlier pieces, some very designer-ish, and not likely to turn up in many people's everyday lives. One exception is an East German cupboard-bath, designed to be squeezed into the kitchens of post-war workers' housing (static, but an example of "flexible living").

28 May 2007
You may like our new sister site Home Things Past where you'll find articles about antiques, vintage kitchen stuff, crafts, and other things to do with home life in the past. There's space for comments and discussion too. Please do take a look and add your thoughts. (Comments don't appear instantly.)
For sources please refer to the books page, and/or the excerpts quoted on the pages of this website, and note that many links lead to museum sites. Feel free to ask if you're looking for a specific reference - feedback is always welcome anyway. Unfortunately, it's not possible to help you with queries about prices or valuation.