Subscribe to RSS feed or get email updates.

Get Mrs. Stewart's Bluing from Amazon

Reckitt's Blue Laundry Bluing (Pack of 10 Tablets) from Amazon.com
The cake or ball of blue should be tied in a flannel and then dissolved in the water by crushing it with the fingers; when sufficiently coloured the water should be sky-blue when held in the palm of the hand.
Marion Bidder, Domestic economy in theory and practice, 1911
Where can you buy laundry blue?
Suppliers of bluing, dolly blue, and other blue-tinted washing whiteners
>>>> main article on laundry blue and bluing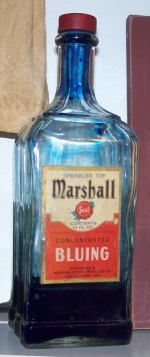 Thank you to everyone who's asked about suppliers of laundry bluing. This list of sources of various kinds of washing blue - liquid, solid, or powder - online should help. If you have any other suggestions, do let us know.
Please read any instructions on the product carefully. Remember both powder and solid lumps may cause blue smears or specks if used incorrectly. All kinds, including liquid, need to be used at the right concentration.
Solid blue always used to be tied in cloth, or put in a bag, and mixed into rinse water by hand; traditional advice says the rinse water should look "sky blue" and the blue bag should be made of thick flannel. It isn't suitable for front-loading washing machines, and you would have to invent your own way of using it in a top-loader.
USA
Liquid bluing is quite easy to buy in the US.
Mrs Stewart's bluing - on sale at some Wal-Marts, also stocked by other stores selling laundry products. One reader told me (thank you!) she found it at Weis Market, or you can order it from Amazon.
Bluette - There used to be information online saying that this was "sold in the detergent or bleach aisle of most supermarkets and many smaller grocery retailers in the New York area. It is not widely distributed outside of the Northeast" - but that page is no longer there. (May 2009) Scroll down for a link to buy it online.
If you want solid laundry blue try Amazon.com or you may find Reckitt's on eBay. (Although it's sold for magical rituals not laundry, it is the same stuff!)
Canada
Hope some of the US or European ideas will work for you.
UK
Solid cubes of Reckitt's blue sold by the Carbolic Soap Company - also eBay, as above under "USA".
Both solid and liquid bluing can be ordered from the USA via Amazon - check the shipping charges.
Powder blue from Ossiversand - see link under "Germany and other European countries".
You may find Robin liquid or powder blue in shops with a lot of supplies imported from the Indian subcontinent.
Germany and other European countries
Powdered ultramarine blue made in Germany (Waschblau or wash-blue) is available, but the English language webpage I used to suggest has gone. Please let us know if you can help with this.
German language sources of Schneeberg powder blue include Manufactum - also sold on their Swiss website.
Liquid bluing is made in Spain (azulete) for La Nave - sorry, no definite info on where to buy it - possibly in some supermarkets.
Liquid and solid blue may be ordered from Amazon and eBay (see above).

Bluette Liquid Laundry Bluing
from Amazon
Australia, New Zealand
Ebay, Amazon.com and Ossiversand (see above) are our only suggestions. Please email if you know better.
India and Pakistan
Laundry blue is widely sold in liquid and powder forms under the brand names Robin and Ujala.
You may like our new sister site Home Things Past where you'll find articles about antiques, vintage kitchen stuff, crafts, and other things to do with home life in the past. There's space for comments and discussion too. Please do take a look and add your thoughts. (Comments don't appear instantly.)
For sources please refer to the books page, and/or the excerpts quoted on the pages of this website, and note that many links lead to museum sites. Feel free to ask if you're looking for a specific reference - feedback is always welcome anyway. Unfortunately, it's not possible to help you with queries about prices or valuation.