Subscribe to RSS feed or get email updates.
That if you have a faithful Woman or Housemaid, it will cost you little trouble. It were necessary that such a one were a good Market-woman, & whose Eye must be from the Garret to the Cellar; nor is it enough they see all things made cleane in the House, but set in order also; That if any Goods be broken or worn out they shew or bring it to her that she may see in what condition it is, that nothing be hid or imbezel'd. .... She should bee the first of Servants stirring and last in bed, & have some authority over the rest, & you must hear her & give her credit, yet not without your own Examination & inspection, that Complaints come not to you without cause. It is necessary also she should know to write and cast up small sums & bring you her Book every Saturday-night, which you may cause to be entered into another for your self, that you may from time to time judge of Prices & things which are continually altering.
Mary Evelyn, Oeconomis to a Married Friend, c1677
Setting up home in 17th century London
Equipping a house, hiring servants, expenses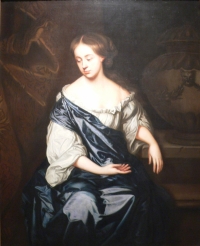 When Margaret Blagge married Sidney Godolphin in the 1670s, not long after this portrait was painted, she needed advice on how to equip and run her household. The Godolphins were very comfortably-off, but not really rich like this 17th century aristocratic household. They would start married life with just enough silver for their dining table but were advised to go on building up their stock, keeping to classic designs that would not go out of fashion. An earthenware fruit bowl would do until they could afford better.
Mary Evelyn, an older friend, emphasised how vital it was to find a good "Woman or Housemaid" to supervise everything, including the other servants. Employing casual labour from outside the household should be minimised since "Out-helpers...make Gossips".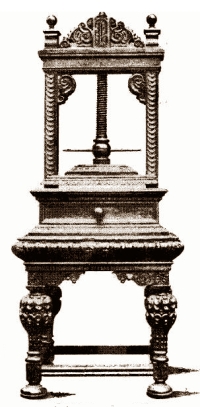 The distinction between the family and their servants is obvious in the budget. The master and mistress would sleep between sheets costing more than twice as much as the senior servants' bedlinen, and four times as much as the sheets for the "ordinary Men and maid-servants". They would have their sheets washed every two weeks, while the servants' bedlinen had to last a month.
With white linen tablecloths and napkins as well as sheets piling up, on average two shillings a week would be needed for soap, starch and washing, plus a large quantity of coal to heat water if the laundry was not sent out to washerwomen. No smoothing irons are mentioned; instead Mary Evelyn lists a napkin press and a polished hardwood slickstone made of lignum vitae. (See the history of ironing page.)
The early 17th century napkin press illustrated to the left is very ornate and elaborately carved and may well have cost more than one pound, the sum Margaret Godolphin was advised to spend on hers. The folded linen was pressed under the board attached to the screw, and some could go in the drawer[s] beneath.
Mary Evelyn warned that there was not much leeway in the budget: £500 a year was to cover Sidney Godolphin's clothes, horses, a groom and so on as well as all the household expenses. A reserve of £60 was "little enough considering Sickness, Physicians, and innumerable Accidents that are not to be provided against with any certainty." Sadly, the young Mrs. Godolphin died in 1678 after giving birth to her first child, Francis.

The World of the Country House in Seventeenth-Century England
from Amazon.com

Or click this link to order it from Amazon UK

7 November 2007
For more on old washing methods see:
Washing & cleaning for a 17th century duke
The great wash and wash days
Lye and chamber lye
Laundry blue
Washing bats and beetles
Washing dollies
History of washboards
Also:
History of ironing

You may like our new sister site Home Things Past where you'll find articles about antiques, vintage kitchen stuff, crafts, and other things to do with home life in the past. There's space for comments and discussion too. Please do take a look and add your thoughts. (Comments don't appear instantly.)
For sources please refer to the books page, and/or the excerpts quoted on the pages of this website, and note that many links lead to museum sites. Feel free to ask if you're looking for a specific reference - feedback is always welcome anyway. Unfortunately, it's not possible to help you with queries about prices or valuation.